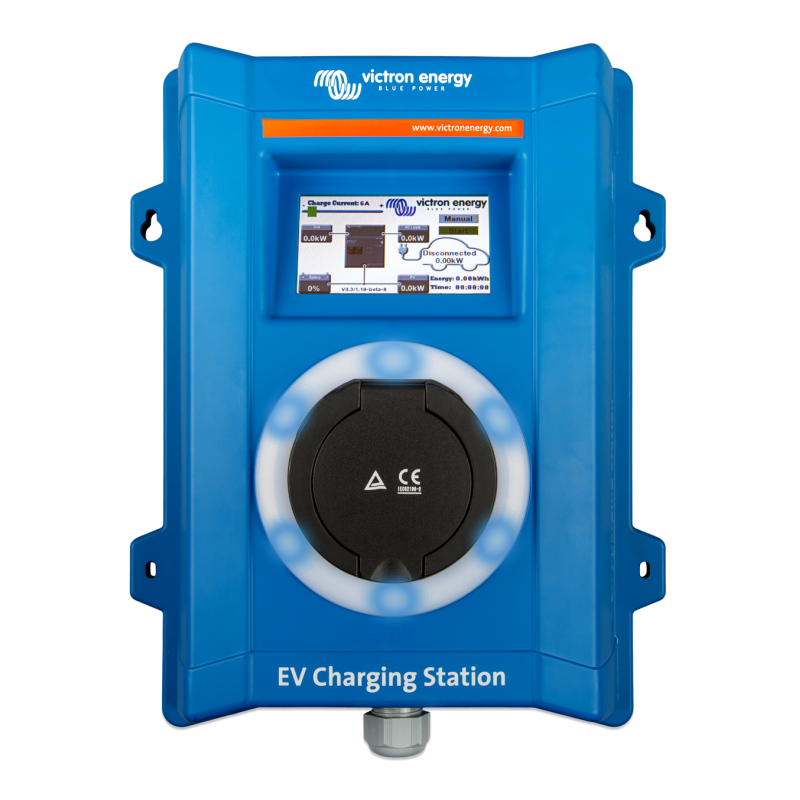 Images are for illustration purposes only. Actual product may vary, make sure to verify the specifications and datasheets.
 
EV Charging Station
The EV Charging Station has three phase and single-phase capabilities. It delivers maximum 22kW AC in three phase mode or 7.3kW in single phase mode.
It incorporates 4.3-inch LCD touch screen for monitoring and control.
Fully programmable RGB Light Ring around charging port, to quickly determine the device state.
It can be programmed from the web interface to display different light effects based on the current state (disconnected, charging, charged etc.). The objective is to help the user see the current state from a distance. 
The EV Charging Station has two operation modes:
1. Automatic Mode to ensure maximum PV system efficiency
Thanks to the seamless integration of the EV Charging Station with the rest of the Victron installation, it detects when surplus power is available and uses only this power to charge the vehicle.
Instead of loosing surplus energy when the batteries are full or instead of feeding back into the grid at a lower price, the energy is stored into the EV battery.
Seamless integration into the Victron installation.
Detects when excess power is available and uses only that to charge the vehicle before exporting it to the grid.
Ensures maximum PV efficiency.
2. Manual mode to configure output current
Manual mode allows configurable output current between 6-32A.
The charging power is controlled in several ways:
By using the slider on the LCD touch screen.
By using a web browser via the web interface.
From a GX device with added touch screen like the GX Touch 50.
From the Remote Console.
By using the Controls on the Dashboard of the VRM Portal.
It allows to manually start or stop the charging process when a EV is connected to the charging station and allows charging the EV independently of PV production.