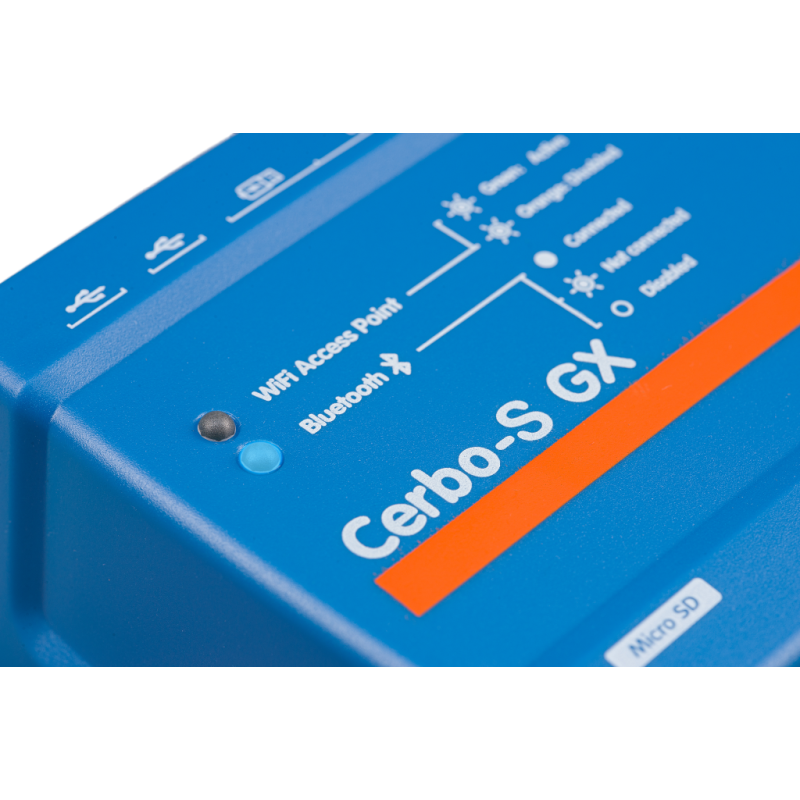 Images are for illustration purposes only. Actual product may vary, make sure to verify the specifications and datasheets.
 
Cerbo-S GX
Cerbo GX: communication-centre
This communication-centre allows you to always have perfect control over your system from wherever you are and to maximise its performance. Simply access your system via our Victron Remote Management (VRM) portal, or access it directly, using the optional GX Touch screen, a Multi-Functional Display (MFD) or our VictronConnect app thanks to its Bluetooth capability.
Remote Console on VRM
Monitor, control and configure the Cerbo GX remotely, over the internet. Just like if you were standing in front of the device, using Remote Console. The same functionality is also available on the local network LAN, or using the WiFi Access Point of the Cerbo GX.
Simple mounting and configuration
The Cerbo GX is easily mountable and can also be mounted on a DIN-Rail using the DIN35 adapter small, (not included). Its separate touchscreen can be bolted on a dashboard, eliminating the need to create perfect cutouts (like with the Color Control GX). Connection is easy via just one cable, taking away the hassle of having to bring many wires to the dashboard. The Bluetooth feature enables a quick connection and configuration via our VictronConnect app.